We are known for offering an exceptional gamut such as Synthetic Washers, Faucet Aerator, Stainless Steel Faucet Aerator, S. S. Water Saving Aerators etc...
With the establishment of our company in 2015, we, Shiv Gola Trading, have pleased many customers by our incomparable products. The gamut we offer includes Faucet Aerator, Stainless Steel Faucet Aerator, Synthetic Washers Faucets Indicator, Wall Mixture, Piston Rings Set, Brass Components, Synthetic O Rings, Abs And Other Plastic Material Items For Taps etc. Principles followed in our company such as respect for all, honesty, work with ethics and accountability make us different from all our competitors. For customers we are the best manufacturer they have ever created relations with. We knew this as they provide us with great feedback time to time. Because of this, we gain motivations and our eagerness to improve our services increases more. Having a passionate as well as professional team of employees is one of our company's best part and the very important factor responsible for our victory. In less time, our competitors have seen us grow and raise many challenges for them in markets. Our products are highly preferred over their offerings and day by day our clientele is expanding.
Factors Responsible For Our Success
Apart from our qualitative products such as Synthetic Washers, Faucet Aerator, Stainless Steel Faucet Aerator etc. there are many things which attract clients towards us. After shaking hand with us they feel satisfied as they have made the right choice. Our clients tell us that after giving us orders they are satisfied and do not have to ask us about consignment. They know the assortment will surely reach on right time at the right place. We have created this image of our organization for them. Following are some of the factors responsible for our success as well as helped us in attaining respect from clients:
Commitment to excellence
Cooperation with clients and employees
Flexibility
Respect and understanding
Expertise more than experience
We Crave For Honest Feedback From Employees And Clients
Clients and our workers are very important for us and we make them feel like that. We tell both of them to provide us with their reviews so we can improve. The suggestion of our employees make us create more suitable environment in our company which is very crucial for them to be comfortable and work. Feedback from clients make us aware if we are going towards right way as well as help us bring improvement to the quality of our services.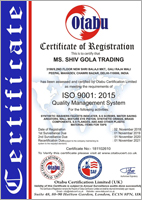 Latest Trade Offers
Male plug used in 1/2" pipelines before fitting for closing the hole of pipe Condition : New Light weight Non-corrosive Easy To Fit..
Wear & tear life Accurate fitment C.P. Tee is used for UPVC and CPVC fitting Economical..
SHIV GOLA TRADING
3198/9, 2nd Floor New Shree Balaji Market, Raja Wali Gali, Chawri Bazar, Delhi - 110006, India
Mr. Shivam Aggarwal (Proprietor)
Mobile : +919810268551, +919212022451